Rustam Kurmaev & Partners Announce Promotion of Two Partners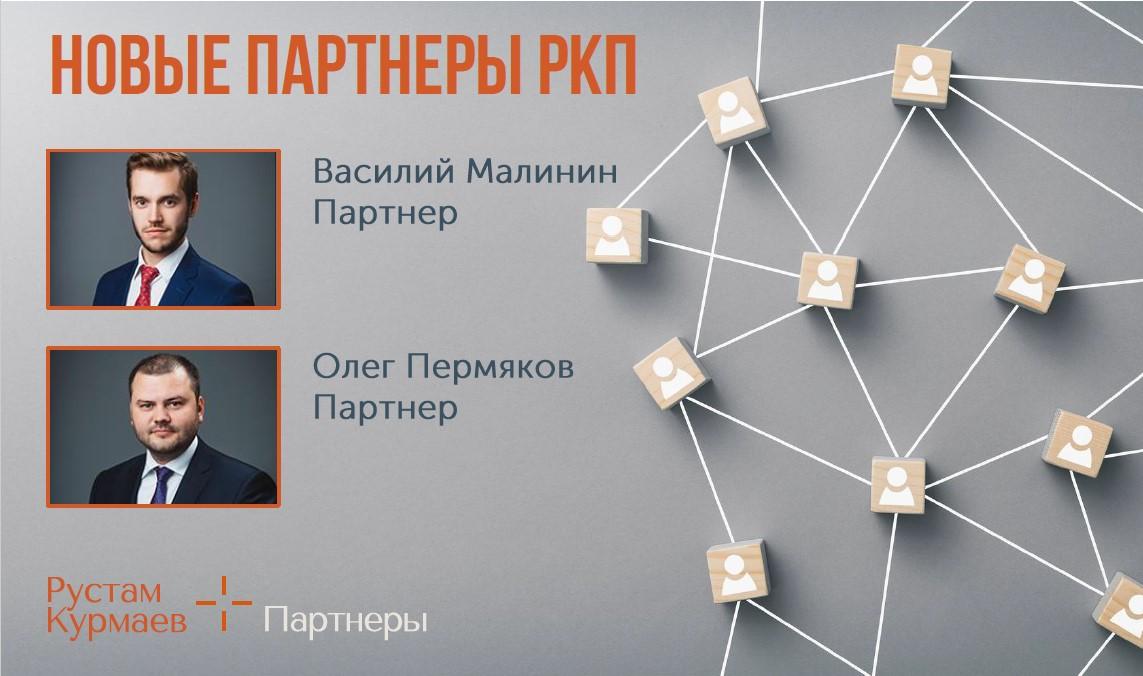 Rustam Kurmaev & Partners Law Firm announced two attorneys were promoted to the partnership effective January 10, 2022. The new partners are Vasily Malinin, Head of the Commercial Disputes practice, and Oleg Permyakov, Head of the Restructuring and Insolvency practice. Vasiliy and Oleg have been working at RKP since the firm inception in 2017. Before that, they were members of a dispute resolution practice group, headed by Rustam Kurmaev, at an international law firm.
Vasily Malinin specializes on the resolution of commercial disputes, as well as litigation services for disputes related to construction and real estate, zoning and land use, commercial leasing, natural resources (oil and gas) and investment projects. Vasily has assisted clients, including Auchan, IKEA, Scania, Bio-Rad, TECHNONICOL, Russian and Turkish construction industry giants, US oilfield servicers, Moscow City office and business property owners and many other prominent Russian and international companies, before different courts. Vasily has been recommended among the best experts in "Litigation Proceedings, High Market" by Pravo.ru-300, Russia's leading legal ranking. According to client testimonials published on the website of the Legal 500 EMEA 2021 (the most authoritative international legal ranking), Vasily's 'professionalism, extensive knowledge of legal matters and sectoral specificities, and his calm confidence distinguish him as a lawyer'.
Oleg Permyakov specializes in assisting clients before courts in cases involving bankruptcies, corporate conflicts, property-related disputes and cases where protection against unfair acquisition is required. Oleg has extensive experience representing Russian clients before arbitration panels and general jurisdiction courts of all levels and instances. He also has criminal law defense experience. Oleg's recent projects included rendering legal support on separate disputes surrounding the insolvency (bankruptcy) of SK MOST Group companies engaged in major infrastructure projects in Russia, including the expansion of the Baikal-Amur Mainline (BAM) and construction of a cross-river railway bridge between Russia and China, with the total lawsuit settlement amount exceeding RUB 3 billion. Oleg represents Russian Standard Bank in the bank's most material disputes involving bankruptcy procedures, and has successfully defended Mechel Group and its beneficial owner in a dispute on subsidiary liability with claims against the client totaling RUB 17 billion. Oleg completed his Candidate of Juridical Sciences degree in 2009 and has been working as attorney since 2010. According to The Best Lawyers™ ranking, he is one of the best Business Restructuring & Bankruptcy lawyers.
Commenting on the new appointment, Rustam Kurmaev, RKP Managing Partner, said: "To me, the appointment of new partners is an important event, because it is the first time since our company emerged that we are promoting a new partner class. I've been working with Vasily and Oleg for more than 10 years and know both of them as top-notch professionals with impeccable understanding of all the intricacies of their chosen fields. I'm happy that our firm can open up space for our lawyers' professional growth. These new appointments are sure to strengthen our dispute resolution and our restructurization and bankruptcy practices.'