LEADING RUSSIAN DIRECTORY PRAVO.RU-300 RECOMMENDS RUSTAM KURMAEV & PARTNERS IN ALL KEY PRACTICE AREAS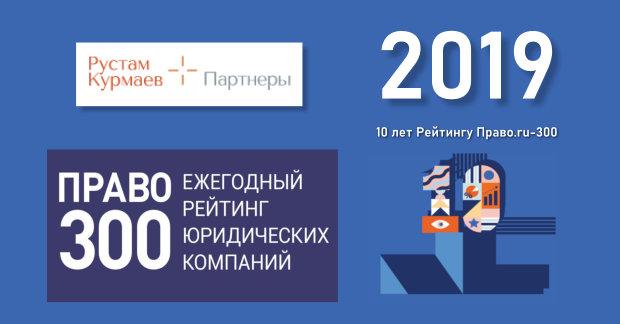 On 5 December 2019, leading legal professionals gathered for the 10th Annual Pravo.ru-300 Awards Ceremony at Ritz Carlton. Rustam Kurmaev and Partners took part in the ranking for the second time and received recognition from the Praov.ru Expert Council, thus strengthening its position across all key practice areas.
Pravo.ru issued its first large-scale study of Russia's legal services market back in 2010. The ranking organizers strove to increase transparency in the market and create a benchmark for courts and clients which would help measure legal consultants' professional level. Since its inception, Pravo.ru-300 has earned a status of the most prestigious national ranking in the legal profession, and the annual awards ceremony has become one of the most anticipated events for the industry. The 2018 results represent the 10th Anniversary of the Awards. As always, the ranking was audited Deloitte.
Rustam Kurmaev and Partners was recognized by Pravo.ru in all key practice areas:
Group 2 in Commercial (Arbitrazh) Proceedings (High Profile Cases)
Group 2 in White Collar Criminal Law
Group 3 in Dispute Resolution in Courts of General Jurisdiction
Group 3 in Bankruptcy
In addition, the firm won a special nomination in White Collar Crime for its work in defending the founders and management of Baring Vostok Capital Partners in a criminal case where they are charged with embezzlement.
"I would like to express my gratitude to those who voted for us, who demonstrated their support in this way and did not remain indifferent. This, first and foremost, is of huge importance to our clients: innocent people who have been in custody for almost ten months. During this past year, we witnessed excellent examples of solidarity amongst professionals: journalists, actors, IT specialists, etc. Our clients, their families, colleagues and friends, really felt the support of the legal community, the professional solidarity amongst lawyers who were carefully following this conflict and providing an unambiguous assessment of the events as they unfolded. We unconditionally believe in our clients' innocence and will continue to use all available means to fight and defend their freedom and reputations," said Rustam Kurmaev, the firm's managing partner.
According to the Pravo.ru-300 organizers, the ranking is an operational tool actively used from year to year by in-house lawyers and procurement departments of big corporate groups to search for and select among legal consultants. The rating methodology is based on an assessment of law firms' project experience, as well as on client reviews in terms of the price-quality combination. An independent Expert Council was also established to further increase objectivity and transparency. The council consists of heads of legal from major Russian and international corporations.
For further details on the ranking results, please visit the Pravo.ru-300 Rating website.