THE LEGAL 500 EMEA RECOMMENDS RUSTAM KURMAEV AND PARTNERS IN ALL KEY PRACTICE AREAS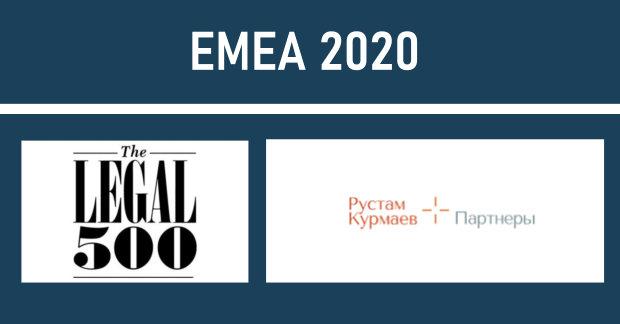 The international legal directory The Legal 500 has published the results of its annual survey of the legal services market in Russia. Rustam Kurmaev and Partners is noted among the leaders in the fields of dispute resolution, white collar crime and restructuring & insolvency. The firm's partners Rustam Kurmaev, Dmitry Gorbunov and Dmitry Kletochkin and Head of insolvency practice Oleg Permyakov received individual recognition in the editorial.
For Dispute resolution: Litigation the firm is ranked in Tier 4 with the accompanying description: Areas of notable strength for dispute resolution boutique Rustam Kurmaev & Partners span commercial litigation, corporate conflicts, and criminal proceedings. The team also excels in contentious bankruptcies, as well as construction and insurance disputes. Name partner Rustam Kurmaev acts for domestic and foreign companies, financial institutions and large corporations, and specialises in the criminal defence of businesses and enforcement proceedings.
Testimonials:
'Rustam Kurmaev has built a unique team of dedicated professionals, and they have quickly become our go-to lawyers for any dispute resolution matters in Russia. Their response time and commitment are second to none, and when we instruct the firm, we can always trust that their billable hours will be reasonable. It has been a great experience working with these lawyers.'
'Brilliant and hard-working lawyers, who are very client-oriented, creative and smart.'
'Rustam Kurmaev is a strong litigator and a true leader; he is always closely involved in all matters and this hands-on approach to handling cases is truly commendable.'
For Restructuring & Insolvency the firm is ranked in Tier 4 with the following description:Rustam Kurmaev & Partners has established a solid reputation for its boutique dispute resolution practice with expertise in white-collar crime matters and criminal defence; the team is also increasingly active in bankruptcy-related proceedings. Particular sectors of focus include the automotive, mining and metals industries. Practice head Oleg Permyakov is the main contact; name partner Rustam Kurmaev and Dmitry Kletochkin are also key names to note.
Testimonials:
'High level of service, coupled with creativity and a result-oriented approach to issues.'
'Rustam Kurmaev's team is prepared to assist anytime by providing top-quality legal advice tailored to the specific purpose of the client.'
'Dmitry Kletochkin and Oleg Permyakov are also very efficient in providing legal support during complex disputes involving bankruptcy and criminal defence.'
For White collar crime the firm is ranked in Tier 3 with the following description: Rustam Kurmaev & Partners provides boutique dispute resolution advice, and has also seen a steady increase in instructions from clients involved in white-collar crime investigations and cases. Managing partner and `reputable litigator` Rustam Kurmaev leads the wider dispute resolution group and has significant experience in defending financial institutions and large corporations. The `highly competent` Dmitry Gorbunov heads up the white-collar crime practice and specialises in defending clients in criminal proceedings, particularly arising from fraud allegations; and Dmitry Kletochkin has niche expertise in white-collar crime work relating to restructuring and insolvency mandates.
Testimonials:
'This is the best team to have on your side in any criminal dispute in Russia.'
'The team has great experience in dealing with the Russian state authorities. If a client hires them, they know that things are under control at all times, as the team is on top of the situation. Another strong advantage of the practice is timing – team members know the rules of this game so well, which allows them to anticipate certain scenarios ahead of time and to make sure necessary that proactive steps are being taken.'
'Rustam Kurmaev is a very strong and efficient negotiator and a great team leader. His client portfolio speaks for itself.'
'Dmitry Gorbunov and Dmitry Kletochkin are very impressive, both are exceptionally committed, professional and motivated lawyers.'
In 2019 RKP has launched its own microsite on The Legal 500 website featuring the firm's detailed profile with the description of its practice areas and expertise, an interview with the managing partner and client testimonials.
For 32 years, The Legal 500 has been analysing the capabilities of law firms across the world, with a comprehensive research programme revised and updated every year to bring the most up-to-date vision of the global legal market. Today The Legal 500 assesses the strengths of law firms in over 150 jurisdictions across the globe.